My Experience working as Business Analyst on a Global Project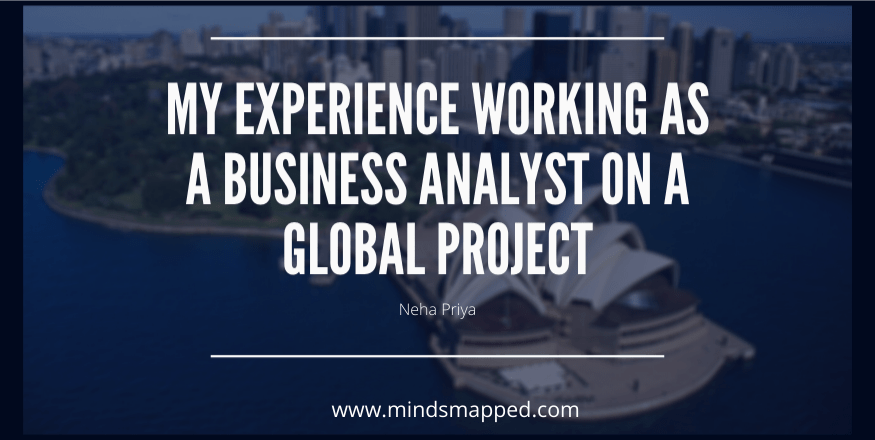 I was the lead BA in a project where our client was one of the preeminent telecommunication company in Australia. The biggest project that I ever worked in was this one. I was fortunate enough to be part of it due to which my learning graph grew. The growth that I experienced was on many different levels. It was quite an engaging process in all its lengths and breaths. I was part of the project from the very beginning until the go-live. Since it was a large scale project, many teams collaborated, and it created a perfect opportunity to be a good team player. Working with so many different individuals is the best part of the job. There are a lot of learnings you can give and take in this process.
Absorbing the whole method, how an enterprise works from its ground level is fascinating. Especially when you get to be involved in the business decision making it adds a whole lot of a different perspective.
Playing the role of Business Analyst, in different teams was in itself a versatile job. My roles and responsibilities spread across the width of a product owner and a business analyst. As it was a long term project, it helped me foster deep relations with the team members, which I cherish to date.
Challenges in a Global Project
Onsite and Offshore Team
The interesting thing about this project was that we had our team members working in different time zones. Our development team was distributed across geography. It is always difficult initially to align the team members because when one team is working, the other team might be offline. Adding to that, if there are dependencies between the two teams, it can get worse. One might have to wait a business day for the other team to work on the blockers. Building roasters at times is useful in such situations so that in critical times the team member are not left blocked.
Meeting Cadence
It did pose difficulties initially since meeting timings could not match. We had to be very careful of the timings of the client meetings. Gradually we learned to manage these. We tried keeping minimum meetings in place and made sure we are involving the right participants rather involving everybody on the team at the same time.
Virtual Parties
In such situations, one does miss out on the team bonding relation with certain team members of the team as they are physically located in a different part of the world. Technology advancement is a rescue in these times. We did a lot of catch-ups on the video call, which made it looked we all are working together for a while. I remember we did a game meeting which was so much fun as we all go together virtually and played together. The distance seems to vanish when you are spending more time together, even if it is virtual.
Language Barrier
Thankfully we did not face any language barriers in our case. Everyone's work language was English, so there was not much difficulty in communicating with one another.
Public Holidays
Every sprint meeting we made sure we are taking into account the public holidays and festivals for different countries.
Benefits of a Global Project
Cultural Diversity
Due to the nature of the team, we got to experience the cultural diversity that was brought on the table by the team members. We got to discover so much about one another in this way of working. We got to celebrate many occasions together and learned a lot about the cultural differences, which otherwise might not have meant anything to us.
Virtual Award Show
It is very important to celebrate little victories. Small appreciations go a long way. So made a deliberate effort to take some time to celebrate it together and made sure our team on the other end of the world are also celebrating it amongst themselves, even though they were a small group of people.
Learnings
This assignment helped me widen my skillset across different domains. I got to understand the different platforms and technology associated. It was a large scale project and hence gave me a good understanding of how team works end to end.
Flexible work timings
If the trust factor is high within the team members, and if everyone is true to their words, it is the best place to be in. Everybody can work on their time peacefully since nobody would be micro-managing, and you have all the time in the world to be flexible with your work timings.
My Journey
Global projects mostly have a very good delivery pathway, and hence it is worth pondering upon how such type of project is operated. I have elaborated on my journey on this project by dividing it into different phases of the project. I have also added the key learnings and takeaways to it. I have shared my views, and I hope all of you who are reading along will resonate with it.
Discovery Phase
An initial couple of months were the discovery phase. We had long workshops with clients, which comprised of detailed understanding of client business.They had a desire to become a more adaptable organization, able to respond to market changes, and create exceptional digital experiences for their customers. They were looking to provide its users with a more engaging and user-friendly experience across all devices. Due to COVID-19, it became even more crucial for them to achieve this as it impacted retail and in-person experiences. This presented an opportunity to drive volumes through digital channels and test a more cross-functional, agile method to deliver this outcome.
The client consigned us to establish the requirements for the new website, design the Information Architecture, deliver a technical design, implementation plan, wireframes with the final creative designs illustrating how the site will look when eventually built.
We supported our client in standing up two new agile discovery teams within the digital marketing experience. We provided Agile Coaching and Iteration Management assistance to the two teams to mobilize and capture learnings. This also aided us in shaping their future business transformation agenda.We started with understanding the scope MVP(Most Valuable Product) and then capturing initial risks, issues, assumptions, and dependencies.
Inception Phase
We have been supporting our client from Day 1 of the inception phase, establishing their Content Management System, as well as leading key workstreams such as Product Modelling, Payment Gateways, Middle layer, and Data. This engagement aimed to help the client by establishing and scaling their Digital operations, Billing, and Business Process capabilities.
The client is best known for their Postpaid devices with plans, NBN, and prepaid services. Legal content somewhat overshadowed these sections of the website. They also had disjointed pathways to discover information and purchase products. The team wanted to learn how to improve customer journeys to increase conversions. The approach that we focused on was user experience and analytics insights to help gain an understanding of the existing state journeys during our Discovery phase.Through the Define and Design phases, the team mapped out recommended updates to the user flows as well as a prioritized set of recommendations that could help shape the backlog.
As part of this process, our client identified user experience & customer engagement as a foundational pillar in support of its digital workplace and digital ambition. We aimed to introduce newer capabilities of End-user Experience and End-to-End Application Performance Management to support services and applications effectively.​
Elaboration Phase
The first step in the elaboration phase was performing an initial current state assessment to identify reusable components, as well as any existing insights. Then we developed an initial set of priority frameworks with specific attention on the prioritized capabilities.
We had to focus on how to evolve the journeys. In this phase, we went all in deep ends of the requirement gathering session. We had elaborative meetings which were driven via whiteboarding the ideas. It used to be fun sessions as everyone got the chance to put forward their thoughts on how they visualize they can solve the stated business problems. Then the next steps were to collate all the opinions and document it. We further discussed these with the solution architects to understand if the approach was technically feasible or not.
In addition to the team's day-to-day responsibilities, my team designed mapping documents for the Integration phase of this engagement, which allowed a streamlined approach to integrating 20+ applications into the client's environment within a compressed timeframe. The model helped to differentiate us and played a key part in securing the next phase of work.
Since it was a big project, we worked on a team structure with clear accountabilities, to manage the workstreams under a weekly cadence of ongoing project management, reporting, and communications.
Implementation Phase
One of the key focus of the program was the introduction of the improved device and plan pages, which are light on information and clear on pricing. As a result of this transition, certain business areas were uncertain that if it is a smart move or not. So we adopted the real-time user testing approach. Hence the design was optimized on the go. Multiple workstreams were involved in this delivery. Bringing workstreams together and implementing integrated planning meetings was useful.
The primary outcome of this stage was the biweekly product showcase to the stakeholders. Business Analysts presented these demos to the business. The highlight of this activity was the feature was demoed to the product owners who were the primary owner of the requirements. It was always exciting to see their response when their approved specifications came to life.
This phase focused heavily on the usage of our accelerator to reduce the overall build time and cost for the client. As business analysts, we were closest to the business decisions and the priorities of the project. We made sure we are providing transparency with a holistic view of the status and RAID (Risks Assumptions Issues Dependencies) log of the critical path projects at a workstream and program level.
Testing Phase
We helped the client by establishing and scaling their testing capability by providing real-time data to all the environments from development to non-production. It helped the team to surmise the multifaceted data the real-time API (Application Programming Interface) calls would encounter.
Our testing strategy was a multi-fold design. We adopted various testing techniques like PACT (Positioning, Advertising, Copy, Testing), cypress testing, automating the test cases for the most used features, and functionalities. The other focus that we had in mind is building an accessible portal. So strictly followed WCAG(Web Content Accessibility Guidelines) and did testing against these as well. The rigorous
Throughout this process, we gradually gained confidence that we would be close to building a high-quality application. It is so satisfying to see the efforts that you have put in is finally coming out to be better than you expected.
Final Thoughts
Truly bringing the company into today's digital world, our client saw a complete business transformation with impacts on every part of their business, including processes, people, and technology. This project was a great example of the successful collaboration between teams located in different geography of the world.
A relevant, intuitive, and purposeful website that is easy for users to navigate and understand should result in fewer drop-offs from customers and a higher conversion rate for these products. The key impacts of this engagement were to deliver 3 acquisitions and 6 upgrades through their existing digital channels. This also helped us in testing the effectiveness of establishing agile product teams and capturing key learnings, to influence how this could work if designed and scaled more broadly across the organization.
Few occurrences leave a lasting impression in your life. These help you grow both personally and professionally. I hope each one of us gets to experience the tremendous joy of working in such a high delivering environment and getting to learn the most out of it.Do share your thoughts and let me know how you feel about this.