Amazon AWS vs Microsoft Azure vs Google Cloud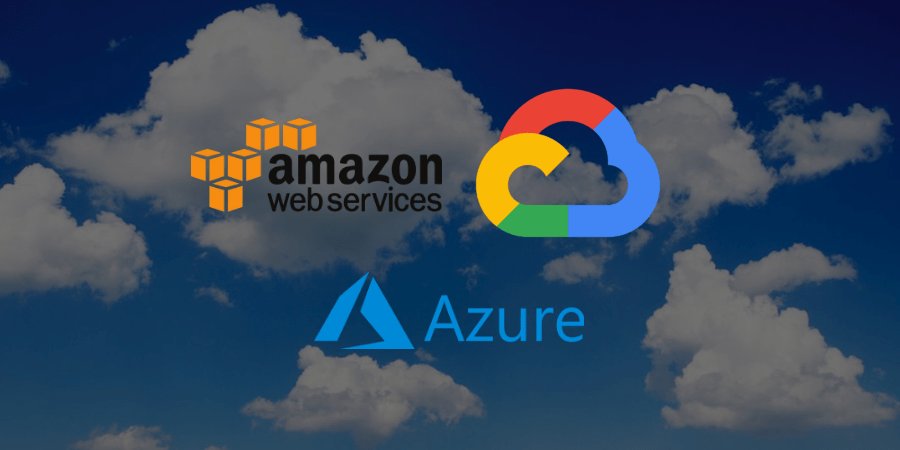 Enterprises around the world are using Cloud computing instead of on-premise infrastructure. This need increases the demand for public cloud storage services. Public Cloud Storage market is being collectively owned by three dominant service providers Amazon, Microsoft, and Google. Amazon's AWS, Microsoft's Azure and Google's Cloud Platform are different from each other and is strongly dictated by their background.
In this article, we will see about all the three service providers, how are they different from each other, the pros and cons of each.
Amazon AWS
Features
Amazon is the premier organization to provide public cloud services and is the pioneer in the Cloud Computing market. Amazon AWS offers almost all everything when it comes to Cloud computing. Amazon has immense document and procedures for collating and aggregating massive amounts of data. It's dominant in many features like configuration, monitoring, security. AWS is mostly preferred in the industry for its extensive and massive offerings, enterprise-friendly services, global reach, open and flexible.
Pricing
Amazon prices are very competitive with all other cloud provides. Amazon offers a per-hour payment basis for the features you use. Amazon also provides a free plan with limited storage and computing capability which could be useful for individuals and start-ups before they purchase. The Pricing model is on demand, sport and reserved. You can pay monthly for the services you use on an hourly basis. You can also calculate your pricing with their pricing calculator.
Advantages
The most inevitable advantage of Amazon is the experience. Amazon has been in this Cloud market for nearly 12 years and it has the world's best and experienced developers and architects. This experience makes Amazon the most enterprise-friendly cloud service provider which allows anyone to work on AWS with ease.
Microsoft Azure
Features
Like AWS, Azure also offers a full variety of services and solutions to individuals and organizations in terms of infrastructure, computing capability, storage, networking etc. Microsoft Azure's strength is its computing power. Microsoft gives you the ability to deploy and manage virtual machines as a scale that means you can compute at whatever capacity you need within minutes. This is a unique feature over Amazon and Google. Microsoft Azure also gives you the ability to integrate easily with Microsoft tools, offers open source support and hybrid cloud services also.
Pricing
Microsoft's pricing varies based on the types of products used by the development team. Microsoft offers Pre-paid or monthly payment options for a price calculated on per minute of usage. As you can see Microsoft is highly scalable and the pricing is on-demand on short term commitments.
Advantages
Microsoft Azure is the fastest cloud solution available now. It is suitable for enterprise development as Azure possess high computing capability and the other Microsoft features integrated into one system and process, offering more power.
Google Cloud Platform
Features
Google Cloud Platform offers a variety of cloud services for developers. Google Cloud Platform (GCP) provides open source support, portability, discounts, and flexible contracts. Google Cloud is specially designed for cloud-based businesses and has the expertise of DevOps to help your team. As Google stems from an analytical background, GCP provides more features and flexibility towards analysis and analytical tools.
Pricing
Google Cloud Platform has the most effective pricing among the three service providers. GCP has a pay-as-you-go pricing billed on per-minute or per-second of usage.
Advantages
GCP offers once of the best cloud security in the industry. They offer another level of cloud security than the rest of its competitors and have over 500 security developers working on it. For top security projects such as banking, finance, defense applications GCP will be the best choice.
Comparing Amazon AWS vs Microsoft Azure vs Google GCP
Computing
The main role of a computer is to calculate and process data. An effective cloud provider must have the ability to perform thousands of operations in just a few minutes. Amazon EC2 provides core computing capabilities to deploy, configure and manage Virtual Machines with use of custom or pre-configured AMIs. Azure provides Virtual Machines or Virtual Machine Scale Sets like Amazon AMIs. Google Cloud Platform has Compute Engine to introduce cloud services.
Database and Storage
Storage is one of the key functions of Cloud services. Amazon provides long-running storage services while Microsoft and Google provide short-running storage services. Amazon S3 has been used for a long time and it has extensive documentation, library, articles, and tutorials to help users.
Networking
Amazon uses Virtual Private Cloud, Azure uses Virtual Network and Google uses Subnet for networking. Amazon's Virtual Private Cloud and Azure's Virtual Network works almost similar and allows to integrate Virtual Machines into isolated networks in the cloud. They also allow to integrate and extend on-premise data centers with the public or hybrid cloud.
Conclusion
When comparing AWS, Azure, and GCP you have many features and costs to consider. Instead of picking on an entire cloud solution, use different cloud services that fit your requirements. Since the cost is relatively similar and all provide pay-as-per go pricing you have the opportunity to use a combination of services from different providers.
Tag:amazon aws, amazon cloud, amazon cloud services, aws, aws architecture, aws cloud computing, azure, azure architecture, azure cloud computing, azure cloud services, google cloud, google cloud architecture, google cloud platform, microsoft azure, microsoft azure cloud services, microsoft azure security, microsoft cloud storage, ms azure, msft azure